Arquivos mensais:
Junho 2014
Cities and counties considering BYOD should ponder these lessons from early adopters.
Source: www.govtech.com
Governments are increasingly aware of the importance of making their online services user-friendly. However, their focus is still mostly on making services available, leaving ample room for improvemen
Source: ec.europa.eu
See on Scoop.it – Social Media For U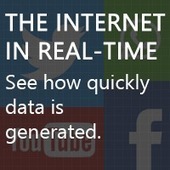 From tweets to likes, see how fast data is generated every second on the internet in this interactive visualization.
See on pennystocks.la